INTERIORS

Bar in the Tower in Melnik
- Throughout construction used traditional carpentry joints secured by pins, all made of spruce wood and treated with staining.





Obřadní stůl
- ...




Basta Chest
- Chest of drawers made of veneered (alder veneer), painted, doors and drawer with open-by-touch system.


Library Burda Senior
- To this library we used classic oak and mahogany veneers combination, the material used on doors orignaly from a old broken lift.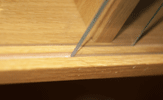 Burda, Jr. Library
- A library is made of varnished birch plywood and galvanized steel T-profiles.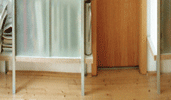 Library
- ...


Shelves and hallway Burda Jr.
- Solid maple, birch, and a combination of meranti plywood.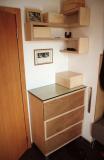 Lounger Burda Jr.
- Constructed of wooden beds, front is stucco, the mattress was custom made.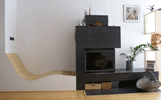 Stage Burda Jr.
- The stage is made of veneer and solid American walnut interior surfaces of storage space are painted in white, lids are opened by handles with a magnet, in front of the doors are upholstered with fabric, hinges are hand-made.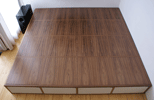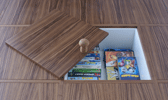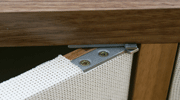 Built-in Wardrobes
- Built-in wardrobes.



Living Room Soukupova
- Birch plywood, painted